Contact the Physical Activity Team
Physical Activity Team, Public Health
North Somerset Council
Castlewood
Tickenham Road
Clevedon
BS21 6FW
01275 882730
Healthy Lifestyles Advisors
If you would like to refer a resident, you are supporting to our Healthy Lifestyles Advisors for get active support just complete and submit our simple referral form.  Our target audience are those who are inactive, taking part in less than 30 minutes of physical activity per week.
Refer to our Healthy Lifestyles Advisors
Once we have received your referral we will make contact with the resident, please ensure you have permission from the resident to pass their details onto us.
Get Active support for residents 
Visit our get active pages for information and advice that can be given to residents you are supporting in North Somerset.
Physical activity reduces risk
In the UK, physical inactivity is the fourth greatest cause of ill health with negative impacts on health, social and economic outcomes for individuals and communities. It is responsible for 1 in 6 UK deaths, which is equivalent to smoking. Importantly, up to 40% of long-term conditions could be prevented if everyone met the UK Chief Medical Officer's physical activity recommendations.  There are a range of guidelines for specific demographic groups and age ranges.
View the physical activity guidelines 
Physical activity learning and training opportunities 
Raising awareness of physical activity workshop
Locally we can offer this free workshop to groups of professionals, content includes; physical activity benefits and recommendations, risks of inactivity, inactivity statistics, why we are inactive, making every contact count, motivational interviewing, local provisions to get active.  1 in 4 people would be more active if recommended by a health professional, if you would like further information or to book on the next workshop email getactive@n-somerset.gov.uk
Become a volunteer Health Walk leader
View information about becoming a volunteer Health Walk leader
Physical activity clinical champions training
Free face to face or online, interactive training delivered by an Health Care Professional, total time 1 hour – 1.5 hours.
Increase your knowledge, skills and confidence around the benefits of physical activity for the prevention of long-term conditions. Gain confidence in your ability to talk about physical activity with patients.
For further information or to book please email:  getactive@n-somerset.gov.uk and physicalactivity@dhsc.gov.uk
Physical activity training for workplaces and employees
Wesport provide three different short courses for workplaces focussed on physical activity:
View further information about the Wesport short courses
Physical activity and health e-learning course
The Office for Health Improvement and Disparities (OHID) has created a longer-length physical activity and health e-learning course to help healthcare professionals to champion physical activity across the life course. The course covers the science, the UK Chief Medical Officers' physical activity guidelines, the underpinning evidence base and how to incorporate physical activity into daily clinical care. It also includes a resource on motivational interviewing.
Physical activity modules from BMJ
BMJ Learning have published 8 modules on physical activity in the treatment of long-term conditions, as well as one on motivational interviewing in brief consultations.
Moving healthcare professionals programme
OHID provides free peer training and online resources to healthcare professionals, via the Moving Healthcare Professionals Programme, to empower them with the skills and confidence to have quality conversations with patients about physical activity.
Active Mums
Being active during pregnancy and beyond brings with it a host of physical and mental benefits, including a reduction in hypertensive disorders, lower gestational weight gain, a reduction in the risk of developing gestational diabetes, and a reduction in depression, improved emotional wellbeing and a quicker return to pre-pregnancy weight in the postpartum period.
However, many healthcare professionals don't regularly have conversations about physical activity with this population group.
In response, Moving Medicine, This Girl Can and The Active Pregnancy Foundation have teamed up to provide a suite of the most useful training and resources, based on feedback from GPs, midwives and health visitors, to arm healthcare professionals such as yourself with the knowledge and confidence to proactively hold these conversations.
Professional resources and tools
Physical activity evidence
NICE guidance and pathways are available to support evidence based practice to promote physical activity.
Moving Medicine online resource
Moving Medicine is a free, online resource for healthcare professionals to promote and support patients with long-term conditions to get more active. Led by the Faculty of Sport and Exercise Medicine UK (FSEM), in partnership with OHID and Sport England, the toolkit provides what is needed for a 1-minute, 5-minute and longer conversations with patients.
Active Practice Charter
The Active Practice Charter is free to join and includes lots of simple and creative ideas to help practices meet the criteria. You just need to demonstrate that your practice has taken steps to reduce sedentary behaviour and increase physical activity in staff and patients, and partnered with a local physical activity provider.  Contact the Physical Activity Team to discuss linking up with local physical activity providers or organising a health walk from your practice or read this article on Movement as Medicine for more information.
The Parkrun practice initiative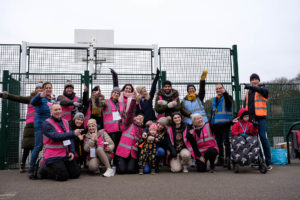 The parkrun practice initiative enables GPs and practice staff to socially prescribe physical activity by referring patients to take part in a parkrun.  This has been achieved in Clevedon in partnership with Clevedon Salthouse fields parkrun, Clevedon Medical Centre and the Physical Activity Team. Please contact us to discuss how we can support you link your surgery with a local parkrun and achieve parkrun practice status. 
Parkrun is a weekly accessible event where individuals can walk, jog or run 5km.
Activity Alliance advice
The Activity Alliance provides physical activity advice for those living with a disability.