Health Promotion Day at We are Super Studios
Come along to We are Super Studios in the Sovereign Shopping Centre on Thursday 30th November between 10-2pm to find out how you can keep healthy this winter.
Better Health North Somerset are hosting a health promotion day where you can come along and find out a range of information including housing, health and exercise, mental health support, vaccinations and a whole lot more.
Here are just some of the organisations that will be there for you to talk too.
Alright my Liver
Smokefree North Somerset
VitaMinds – Mental Health Support
North Somerset Citizen's Advice
UWE Vaccination Team
Sports and active lifestyles
Weston Hospital Services
Health Watch North Somerset
We Are With You

Sirona care & health
North Somerset Council Housing team
Community Learning Development
Gambling Service
Legacy Leisure – Hutton Moor Leisure Centre
Warm Spaces in libraries and our Books on Prescription (Libraries)
The waste minimisation team
Alliance Homes' mens group and our community living rooms.
Community Meals team
We look forward to seeing you there!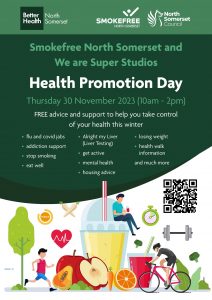 Health promotion day poster 30.11.23 (PDF, 188 KB)