During National Walking Month in May, we challenged you to Walk Every Day in May. Why not carry it on? Download the template below and tick off the days to keep track of when you walk.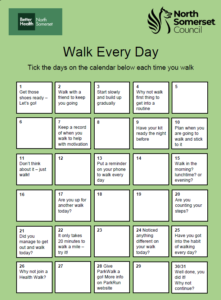 This can be however long or short you like. We want everyone to feel the benefits of being active and getting outside. We have a calendar to download and tick the days you go for a walk. Or you could write how long or far you walked and try to improve throughout the month.
To help keep you motivated, why not walk with a friend, or plan when you are going to walk – morning, lunchtime or evening – it might help you stick to it. Start small and build it into a habit.
We are passionate about encouraging inactive individuals to move a little more and for them to take small steps towards a realistic goal. We Are Undefeatable is a Sport England campaign to support and inspire people with long-term health conditions to be active. Why not try going for a short walk?
The Active 10 app records every minute of walking you do. Download the app to track your progress and keep you motivated.