ParkPlay is an exciting and engaging physical activity initiative – it's 90 minutes of free community play, every Saturday in a park or public space, for everyone. ParkPlay runs every Saturday at: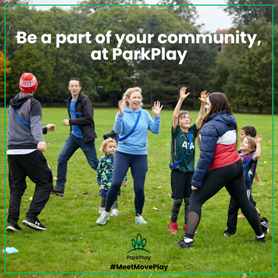 9.30am at Castle Batch, Worle, Weston-super-Mare, BS22 7PQ
10.30am at Cherry Avenue Playground in Clevedon, BS21 6DX
12pm at Ellenborough Park in Weston-super-Mare, BS23 1XH
Please register beforehand by visiting: https://park-play.com/register/ (you only have to do this once)
For more information, please contact: GetActive@n-somerset.gov.uk, or visit: https://park-play.com/

About ParkPlay
ParkPlay is building happier, healthier communities nationwide; through the life-changing power of play. ParkPlay launched in Spring 2021 to encourage everyone to be more active and bring communities together. Since then, with the support of Sport England — and despite the disruption of the pandemic —ParkPlay has successfully launched 42 ParkPlays from Cornwall to Cumbria and has had over 6,000 unique participants. ParkPlay is run by the local community for the local community and serves as a perfect launchpad into every weekend. It's two hours of play in the park every Saturday. It's active and inclusive – all generations play together. It's a FREE, safe, welcoming and inclusive way for people to connect and have fun. Everyone's invited. It's a space to play; to muck about with family and friends. It's a place for friendships, old and new, and a time to create, play and imagine, together. Everyone should feel welcome, never judged, allowing ParkPlayers to grow in self belief.
Below you can hear from Becky and Lottie (age 7) who live a 15 minute walk from Ellenborough Park: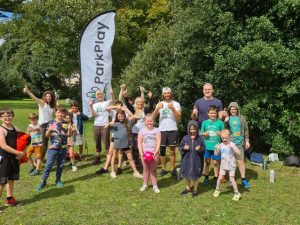 I heard about ParkPlay through facebook, where someone shared the link, so I signed Lottie up and decided to give it a go!
The first time we went to the Ellenborough ParkPlay I didn't know what to expect but Lottie loved it and when we were leaving she said that it was amazing and she was going to go every week, and that has not changed whatever the weather!
I take Lottie every week as a way of getting her to exercise and get out in the fresh air more, even if I might not feel like it, she will make me take her because she loves it so much!
Lottie says that she goes to ParkPlay because it is fun, the best thing about it is she gets to help Craig set up the different games, and if she knows the games then she can help to teach the other people, and make up her own games for people to play too and to help them learn.
Anyone who hasn't been to park play before, we really recommend it, we have lots of fun and make new friends every week.
Lottie – Front row in photo.